Home
›
Translations
The Grandmaster Strategist (一代军师) by Follow the Crowd (随波逐流)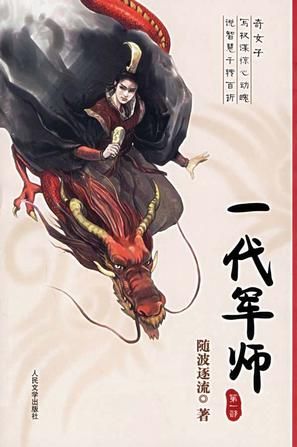 Raw
:
http://www.qidian.com/Book/21839.aspx
Author
: 随波逐流 (Follow the Crowd)
Genre
: Alternate History, Politics, Romance, Tragedy, War, Wuxia
Translator
: Tannhäuser
Synopsis
: Of poor background, Jiang Zhe, styled Suiyun, has finally, after ten years of hard work, passed the imperial examinations and become a scholar within the Hanlin Academy. Unwittingly, he becomes involved in the succession dispute of the Great Yong Dynasty. He faces conspiracies and machinations, and countless battles of strength and wits. Intending to avoid court politics, he ultimately has no choice but to become involved. With no alternative, Jiang Zhe can only follow the crowd, joining the chaotic political turmoil. In this sinister world, he uses his intelligence and knowledge to provide for himself and his companions a stable environment to survive.
Note
:
Hi all, I've decided to take up this translation project. I'm a bilingual Chinese-American who lives in New York. The webnovel is completed with a total of 228 chapters, 1.548 million characters. It is the eleventh most recommended webnovel on Qidian with 5.77 million recommendations.
A0132, known for translating
Terror Infinity
on the main site has previously translated three chapters,
here
. I will be starting from scratch. I hope to churn out 2-3 chapters a week (at minimum) based upon my availability and as my work schedule allows.
Dramatis Personæ
:
Jiang Zhe (江哲) - the main character, a young scholar with preternatural senses, possessing intelligence and remarkable literary talent; hailing original from Jiaxing prefecture; at the beginning of the story he has just finished observing the rites after the passing of his father and serves as the family tutor for Marquis Lu
Lu Xin (陆信) - the Marquis of Who Suppresses Distant Lands, commander of the Southern Chu defenses at Jiangxia; his family is held hostage in the capital of Jianye
Lu Can (陆灿) - son of Marquis Lu
Li An (李安) - the Crown Prince of Great Yong, eldest son of Li Yuan
Li Zhi (李贽) - the Prince of Yong, second son of Li Yuan; masqueraded as Li Tianxiang (李天翔), a merchant from the Kingdom of Shu
Li Yuan (李援) - the Emperor of Great Yong
Liu Kui (刘魁) - hailing from Jiangning prefecture, ranked second (榜眼, bangyan) in the imperial examinations
Fu Yulun (伏玉伦) - hailing from Huaiyang prefecture, ranked third (探花, tanhua) in the imperial examinations
Zhao Sheng (赵胜) - King of Southern Chu, posthumously honored as King Ling of Chu (楚灵王)
Shang Weijun (尚维钧) - Prime Minister of Southern Chu
Prince Changle (长乐公主) - daughter of Li Yuan, Crown Princess of Southern Chu, later Queen
Zhao Jia (赵嘉) - the Crown Prince of Southern Chu, later King Yang of Chu (楚炀王)
Liang Wan (梁婉) - a gifted zither player, becomes adopted daughter of Zhao Sheng and Princess Mingyue of Southern Chu
Xie Xian (谢贤) - Academy Chancellor of the Hanlin Academy
Eunuch Wang (王公公) - a eunuch supervising the book repositories
Xiaoshunzi (小顺子) - a eunuch who Jiang Zhe befriends, becomes a powerful martial artist
Li Xian (李显) - the Prince of Qi (齐王), the sixth son of Liu Yuan
Qin Zheng (秦铮) - a woman masquerading as a man, serves as an adviser to Li Xian, a capable martial artist
Liu Piaoxiang (柳飘香) - the most famous courtesan of the Qinhuai River, owner of the Floating Fragrance Pleasure Boat
Zhao Jue (赵珏) - the Prince of De, a military commander of Southern Chu
Rong Yuan (容渊) - the most influential retainer in the service of the Prince of De
Tian Wei (田维) - the Shu general commanding the garrison at Ba Prefecture
Table of Contents
:
Volume 1 - Southern Chu Zhuangyuan
:
"宁我负人,毋人负我" - 曹操

Tagged: